LinkedIn has become a crucial social media platform for professionals across industries to social network, share content, and demonstrate thought leadership. However, simply posting on LinkedIn is not enough to cut through the noise and effectively engage your target audience. You need a strategic approach for what to post and when. So now the question is what is the best times to post on linkedin?
This guide covers proven best practices for maximizing your LinkedIn presence. We will explore key considerations including your target demographic, ideal times of posting for each day of the week, top-performing content formats, and tools to streamline your approach. Additionally, we will discuss common low-engagement periods to potentially avoid. By implementing these tips, you can develop an audience-focused cadence tailored to your goals. The aim is to provide value when your community is most active and receptive. With an optimized posting strategy, your LinkedIn channel can shift from simply existing to truly engaging. Let's dive in!

What Should You Consider When Posting on LinkedIn?
Posting content on LinkedIn requires careful thought and planning to maximize engagement rate and achieve your goals. There are several key factors to consider:
Your Target Audience
Your LinkedIn audience is diverse, spanning ages, locations, industries, experience levels, and more. Understanding nuances across your target demographic is crucial for creating relevant, valuable content.
Consider key audience attributes like:
Age ranges – Millennials vs Baby Boomers have different interests/communication styles

Locations – Account for universal time zones and cultural norms

Job roles and seniority – Entry-level vs executive content should differ

Industries – Finance, tech, healthcare – tailor content accordingly
Researching your followers provides insight to craft content that resonates.
The Tone of Your Post
LinkedIn necessitates a professional tone – avoid overly casual language or slang. However, being overly stiff/formal can also disengage readers. Strive for a balance – authoritative yet approachable.
Additional tone considerations:
Industry norms – Adopt language/style of your field

Brand voice – Align with your brand personality

Purpose of content – Educational posts may be more formal than networking focused
Maintaining a professional, nuanced tone promotes your expertise and rapport.
Your Goals
Be clear on your purpose for posting – this focuses on content creation. Common LinkedIn goals include:
Driving website traffic

Recruiting talent

Promoting products/services

Building relationships

Establishing thought leadership
Understanding your goals allows creating posts that directly address desired outcomes.
For example, a recruitment focused post should highlight company culture, while a thought leadership piece would share unique industry insights.
Your Brand
LinkedIn provides a platform to convey your personal/company brand. To maintain brand alignment:
Use consistent messaging

Incorporate brand colors/logos

Maintain the established brand voice – professional, approachable, academic, etc.

Ensure all imagery reflects brand style

Publish content formats that are on-brand – like videos for visual companies
Posting content that reinforces, rather than detracts from, your brand creates cohesion and trust.
In summary, taking a strategic approach to your LinkedIn content centering on your audience, tone, goals, and brand sets you up for maximum impact. Keep these elements at the core of your posting strategy.
Best Times to Post on LinkedIn
Determining the best times to post on linkedin is crucial for LinkedIn success. When users are most active and engaged dictates when your content will gain the most visibility and response.
While specific timing depends on your goals and audience, research indicates certain patterns:
Weekday Engagement
In general, engagement is highest on weekdays, peaking midweek. This table summarizes optimal weekday posting times:
| | |
| --- | --- |
| Weekday | Best Times to Post |
| Monday | 7-8 AM, 12-1 PM, 5:30-6:30 PM |
| Tuesday | 7-8 AM, 12-1 PM, 5:30-6:30 PM |
| Wednesday | 7-8 AM, 12-1 PM, 5:30-6:30 PM |
| Thursday | 7-8 AM, 12-1 PM, 5:30-6:30 PM |
| Friday | 8-10 AM, 12-1 PM |
Key takeaways:
Early morning – Catch people checking LinkedIn before work

Noon – Lunch breaks provide browsing time

Early evening – Professionals wrap up work and check LinkedIn
Weekends: Limit and Vary Posting Weekend engagement drops significantly. Post sparingly and experiment to determine optimal times based on your audience.
For example:
Parents may engage early mornings before family activities start

9-5 office professionals may browse on Sunday afternoons

Posting at 7 AM Saturday could reach those checking in over coffee
Continual testing yields the right weekend formula for your followers.
Global Considerations Adjust for time zones across geographies. For example:
7 AM in New York is noon in London

Friday evening in the US is early Saturday for Australia
Understanding your audience's time zones ensures posting at a locally relevant hour.
Industry and Job Role Factors Engagement times often relate to audience routines:
Sales professionals read LinkedIn during morning commutes

SAHMs visit during kids' naptime

Executives read after dinnertime
Identify your niche's habits and schedule accordingly.
Post Frequency Posting 1-2 times daily maintains presence without overwhelming followers. Vary posting times for optimal visibility.
LinkedIn's algorithms also reward consistent interactions – regular posting leads to greater reach.
Best time to post on LinkedIn on Monday
Mondays present a prime opportunity to connect with the LinkedIn community and power up engagement after the weekend lull.
Research shows Monday mornings and lunchtime are the best times to post on linkedin, with engagement declining through the afternoon. Posting too late on Mondays also risks lower visibility as users focus on wrapping up work.
Optimize your Monday LinkedIn content strategy by following these best practices:
Kickstart Engagement Early Begin your Monday posts by 7-8 AM local time to catch users scanning LinkedIn with their morning coffee. Starting the week off strong with an insightful post helps set the tone.
Sample early AM content ideas:
"Morning Motivation" style posts with uplifting quotes, images, or video

Quick polls like "Which project are you tackling first today – A, B or C?"

Links to relevant news articles or blog posts
Lunch Break Boost After morning tasks are complete, Monday lunch hours provide another engagement spike as users browse while eating.
Possible lunchtime post topics include:
Live videos answering FAQs

Sneak peeks of upcoming products/content

Relatable humor like quotes or comics
Wrap-Up with Value As the workday wraps up, users have limited attention for LinkedIn. Keep posts short but compelling, like:
Educational infographics

Listicles like "5 Must-Have Skills for Project Managers"

Inspirational quotes or stories
Later evening posts see lower pickup, so focus efforts before 5 PM.
A Sample Monday Posting Cadence
7 AM: Share an inspirational quote graphic
12 PM: Post a quick tip video for your industry
4 PM: Link to a recent blog article summary
Fine Tuning Your Approach Monitor your Monday analytics for insights on top performing times and content. Surveys and social listening also provide feedback on your audience's needs.
Refresh your strategy weekly for continuous improvement. With smart timing and relevance, your Monday LinkedIn game will thrive.
Best Times to Post on LinkedIn on Tuesday
Tuesdays are a prime day for LinkedIn engagement, with user activity ramping back up after the typical Monday morning lull.
Here are the best times to post on linkedin on Tuesdays for maximum reach and engagement:
Morning: 8-11 AM
Posting during Tuesday morning drive time allows professionals to engage while commuting or over their first cup of coffee.
8-9 AM

– Share industry articles and links to provide value as users begin their workdays

10-11 AM

– Publish posts that inspire and motivate before busier mid-day activities
Mid-Day: 12-1 PM
The Tuesday lunch hours offer a consistent window of user availability and strong engagement.
Possible Tuesday lunchtime post ideas include:
Live Q&As or AMAs

Lighter content like fun polls, quizzes, or entertaining videos

Links to long-form posts for readers to dive into
Afternoon: 3-5 PM
Late afternoon posts can catch users during small work breaks. Keep content concise yet compelling.
Short inspirational quotes or graphics

Snackable tips or "quick reads" for skimmers

Links to downloadable content like eBooks or whitepapers
Evening: Skip It
Tuesday evenings see declining engagement as users wrap up work and shift focus. It's better to hold off posting during this period.
A Recap – The Best Times to Post on Tuesday
| | |
| --- | --- |
| Time of Day | Best Times to Post |
| Morning | 8-11 AM |
| Mid-Day | 12-1 PM |
| Afternoon | 3-5 PM |
| Evening | Avoid Posting |
Monitor your audience's behavior patterns, then test posting at different Tuesday times. Analyze the data to determine the optimal schedule that drives the most visits, likes, comments, and clicks for your brand on Tuesdays.
Best Times to Post on LinkedIn on Wednesday
Wednesdays present a great opportunity to connect with your LinkedIn audience and share compelling content.
Here are the top recommended best times to post on linkedin on Wednesdays for maximum engagement:
Morning: 8-10 AM
Early morning is a prime time to publish posts as users check LinkedIn while commuting or over breakfast.
8-9 AM

– Share useful articles, infographics, and links to provide value

9-10 AM

– Post inspirational and motivational content to energize users for the day
Mid-Day: 11 AM-1 PM
The Wednesday lunch hours are a hot spot for user activity as professionals browse while eating.
Ideal types of content for this period:
Live videos or podcasts

Interactive polls and discussions

Listicles or easily digestible tips
Afternoon: 2-4 PM
Engagement remains relatively strong on Wednesday afternoons. Quick snackable content performs best.
Quotes and graphics

Curated links to industry articles

Short tutorial videos
Evening: 5-7 PM
Early evening presents a final chance to connect as professionals wrap up their day. Keep content short yet compelling.
Inspirational graphics or gifs

Sneak peeks at upcoming content

Links to downloadable assets like ebooks
A Summary of the Best Times to Post on Linkedin onWednesday
| | |
| --- | --- |
| Time of Day | Best Times to Post |
| Morning | 8-10 AM |
| Mid-Day | 11 AM – 1 PM |
| Afternoon | 2-4 PM |
| Evening | 5-7 PM |
Continually test and analyze your Wednesday posting strategy. Identify the specific times that resonate best with your audience for optimal engagement.
Best Time to Post on LinkedIn on Thursday
Thursdays offer ample opportunities to connect with your LinkedIn network and share value-driven content.
Here is an overview of the best times to post on linkedin:
Morning: 8-11 AM
Thursday mornings are a sweet spot as users check LinkedIn over breakfast or during their commute.
8-9 AM

– Share newsletters, articles, and links to inform and assist professionals starting their workday

10-11 AM

– Post inspiring quotes, images, or videos to motivate users
Afternoon: 12-3 PM
Early Thursday afternoon sees strong engagement as professionals access LinkedIn on lunch and work breaks.
Ideal post formats include:
Live video Q&As or AMAs

Polls, quizzes, or other interactive content

Animated gifs and digestible visuals
Engagement also spikes from 1-3 PM as users take a quick LinkedIn break.
Evening: 4-6 PM
As the workday winds down, early evening offers a final chance to connect with your audience.
Inspirational graphics or gifs

Links to long-form posts or downloadable resources

Short, snackable tips
Night: Avoid Posting
Thursday nights tend to have lower LinkedIn traffic. Save your best content for when users are most active.
Thursday Timeline
| | |
| --- | --- |
| Time of Day | Best Time to Post |
| Morning | 8-11 AM |
| Afternoon | 12-3 PM |
| Evening | 4-6 PM |
| Night | Avoid Posting |
Consistency is key – develop a strategic Thursday cadence tailored to your audience for ongoing LinkedIn success.
Best Times to Post on LinkedIn on Friday
Fridays offer prime real estate for your LinkedIn content before the weekend lull sets in. Target key periods of user activity strategically.
Here are the best times to post on linkedin on Fridays:
Morning: 8-11 AM
Engage users before they fully dive into work by sharing valuable, thought-provoking content.
8-9 AM

– Industry articles, newsletters, links

10-11 AM

– Motivational and inspirational posts
Mid-Day: 12-1 PM
The Friday lunch hours are ripe for engagement as users browse LinkedIn while eating.
Ideal post types include:
Live videos like Q&As or AMAs

Interactive polls and quizzes

Entertaining yet professional visuals
Afternoon: 2-4 PM
While engagement declines through the afternoon, quick posts can still gain traction.
Inspirational quotes or graphics

Curated links to interesting reads

Snackable tips and takeaways
Evening: Avoid
Friday evenings tend to have minimal LinkedIn usage – it's better to hold off on posting.
Friday Timeline
| | |
| --- | --- |
| Time of Day | Best Times to Post |
| Morning | 8-11 AM |
| Mid-Day | 12-1 PM |
| Afternoon | 2-4 PM |
| Evening | Avoid Posting |
Best Time to Post on LinkedIn on Saturday
Weekend LinkedIn usage declines significantly, but Saturday mornings offer a prime opportunity to connect with users.
Here are tips on  the best times to post on linkedin for maximizing your Saturday strategy:
The One Golden Window: 7-9 AM
Posting between 7-9 AM local time allows tapping into users scrolling through LinkedIn over their morning coffee.
Share valuable, intriguing content to capture attention before weekend activities commence.
Types of Content to Prioritize
With limited attention spans, ensure Saturday morning posts are scannable and concise.
News roundups

– Curate top articles and trends

Infographics

– Visualize tips and data

Listicles

– "5 Ways to…"

Quotes

– Uplifting graphics and images
Avoid Posting After 9 AM
Engagement drops sharply Saturday mid – morning as users shift focus to weekend plans.
Hold off on sharing your best content during this period.
Limited Evening Engagement
Saturday evenings see nearly non-existent LinkedIn usage. It's better to refrain from posting.
Not Ideal for:
Long form blog posts

Heavy statistics/data

Complex thought leadership
Save in-depth content for high-traffic days during the workweek.
Saturday Time Frames
| | |
| --- | --- |
| Time of Day | Best Time to Post |
| Early Morning | 7-9 AM |
| Late Morning/Afternoon | Avoid |
| Evening | Avoid |
Best Time to Post on LinkedIn on Sundays
While weekends see an overall drop in LinkedIn usage, Sunday mornings provide an opportunity to connect with users before activity tapers off.
Here are tips to maximize your Sunday strategy:
Morning: 8-11 AM
Sunday mornings are prime real estate, as users scroll through posts over coffee or while easing into their day.
Share quality content that provides value and sets the stage for the week ahead.
8-9 AM

– Industry news roundups, curated articles

10-11 AM

– Motivational and inspirational posts
Afternoon: 12-3 PM
The early afternoon hours can still gain some traction, especially after lunchtime.
Interactive polls and quizzes

Short tip lists and tutorials

Quotes and graphics
Evening: Avoid
By Sunday evening, LinkedIn activity slows significantly as the workweek approaches.
Focus your efforts on the morning and early afternoon for best results.
Types of Content to Prioritize
Short, scannable posts

Quick tip lists and tutorials

Links to long-form content

Inspiring graphics and visuals
Not Ideal for:
In-depth thought leadership

Heavy statistics and data analysis

Long blog posts
Sunday Timeline
| | |
| --- | --- |
| Time of Day | Best Times to Post |
| Morning | 8-11 AM |
| Afternoon | 12-3 PM |
| Evening | Avoid Posting |
Strategically capitalizing on Sundays' limited windows of opportunity can maximize your message's reach before Monday.
Are Your LinkedIn Posts Effective Enough?
Generating high visibility and engagement on LinkedIn requires publishing truly valuable content.
Here are key factors that contribute to effective LinkedIn posts:
Quality Over Quantity
Well-researched, insightful articles and discussions will outperform quantity of posts.
Prioritize quality over churning out mediocre content.
Offer Unique Value
Content should provide something useful and relevant to your audience, such as:
Actionable tips and strategies

Curated industry news and trends

Data-backed research and insights

Practical tools, templates, and resources
Generic or self-promotional posts often fall flat. Offer tangible value.
Encourage Engagement
Effective posts spark two-way discussion through:
Thought-provoking questions

Calls to action to comment

Interactive polls and quizzes

Requests for input and feedback
Promote authentic engagement with your community.
Share Visual Assets
Relevant images, infographics, and video boost interest and visibility.
| | |
| --- | --- |
| Content Type | Ideas |
| Images | Infographics, quote graphics, photo content |
| Video | Demo videos, employee spotlights, webinar recordings |
| Presentations | Slideshare uploads, link to presentation content |
Analyze Performance
Use LinkedIn analytics to assess:
Click-through rate on links

Comments generated

Likes and reactions

Shares

Follower growth
Continuously fine-tune your approach based on data.
The most effective LinkedIn posts balance quality over quantity, provide unique value, encourage engagement, utilize visuals, and analyze performance. Follow these principles for optimal impact.
Types of Content to Post on LinkedIn
LinkedIn supports diverse content formats to educate and engage your professional community.
Align posted content closely with your goals and audience preferences.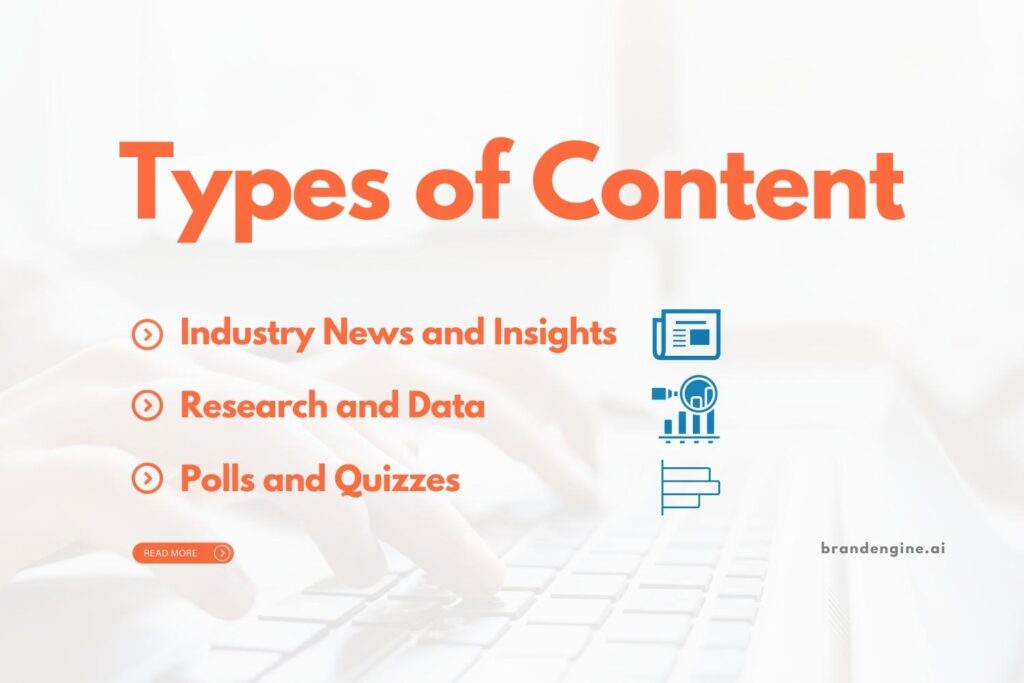 Here are some top content types to focus on:
Industry News and Insights
Share and analyze the latest developments in your field. Possible approaches:
Commentary

– Provide unique perspectives on news and trends

Reaction posts

– Respond to an industry shake-up or viral story

Curation articles

– Roundup key news with analysis
Position yourself as an expert source.
Research and Data
Showcaseproprietary data or findings from reputable sources:
Infographics

– Visually represent statistics

Research summaries

– Highlight key takeaways

Case studies

– Demonstrate results
Back claims with quantifiable insights.
How-To Content
Create educational step-by-step guides:
Articles

– Written walkthroughs with visuals

Videos

– Demo a process or strategy

Webinars

– In-depth tutorials and Q&A
Teach best practices and tactical skills.
Listicles
Curate tips and ideas in scannable formats:
"X Ways To…"

– Listicle of tips

"X Things To Know About…"

– Key points about a topic

"X Best Practices…"

– Tactical recommendations
Provide quick value to time-strapped readers.
Polls and Quizzes
Create short, interactive posts:
Opinion polls

– Gauge perspectives on hot topics

Trivia quizzes

– Engage and test knowledge

Content polls

– Survey interests and needs
Encourage commenting and sharing.
Experiment with different content formats that align to your goals and resonate with your community. Analyze performance to double down on what works.
Considerations When Scheduling LinkedIn Content
Crafting a strategic publishing cadence is vital for LinkedIn success. Here are best practices for scheduling content:
Post Consistently
Space posts throughout weekdays

Aim for 1-2 posts per day as a general guideline

Maintain regular cadence for algorithm rewards
Consistency builds anticipation and habits for your audience to frequently check in.
Vary Content Times
Identify your audience's most engaged hours

Test posting at different times and days

Avoid repetitive scheduling patterns
Keep followers on their toes and increase reach across time zones.
Sync Posting to Work Habits
Increase activity during mornings, lunch, and breaks

Slow posting in evenings and late nights

Capitalize on weekday engagement peaks
Match timing to periods your audience is most available.
Use Automatic Scheduling Tools
Tools like Brandengine.ai allow preparing content in advance and automatically scheduling optimal posts.
Benefits include:
Maintains cadence when traveling or busy

Adjusts timing based on performance

Saves time over manual updates
Take Posting Breaks
Avoid burnout by incorporating periodic breaks from posting:
Schedule 1-2 non-posting days or times per week

Take 1 week off quarterly

Limit posting around major holidays
Gives followers a reprieve and you time to recharge.
Check Linkedin Analytics
Analyze metrics to identify the strongest times for your audience:
Highest click-through, share, and comment rates

Increased follower and page view growth

Lower bounce rates
Continually optimize your calendar based on data.
Strategic scheduling sustains engagement over time. Experiment, listen to data, and refine your cadence.
When to Avoid Posting on LinkedIn
While optimal posting times exist for maximum engagement, certain periods should be avoided.
Here are the worst times to post on LinkedIn:
Evenings
Engagement declines in the evenings as professionals wrap up work and shift focus.
6-9 PM – Usage and click-through drops. Hold off on sharing your best content.
Overnight
Late night posts see nearly zero engagement.
10 PM – 6 AM – Avoid completely unless targeting audiences in distant time zones.
Fridays
Fridays have shorter windows of high attention as the weekend nears.
Engagement drops significantly after

1 PM

.

Post sparingly

on Friday afternoons and evenings.
Weekends
LinkedIn usage plummets on Saturdays and Sundays except for small morning windows.
Limit weekend posting

to 1-2 short, timely posts.

Avoid in-depth content

like long articles.
Mondays
Mondays tend to have depressed engagement as users ease back into the workweek.
Hold your best content

until after the Monday morning lull subsides.

Post consistently

but avoid critical announcements on Mondays.
Holidays
Engagement varies but often declines around major holidays as people vacation and unwind.
Share fun, seasonal content

but avoid in-depth posts.

Stay active

but consider reducing posting frequency around holidays.
FAQ
What are the most important factors to consider when posting on LinkedIn?
When developing your LinkedIn posting strategy, prioritize getting to know your target audience, analyzing performance data, maintaining a consistent cadence, and avoiding low engagement periods. Tailor both your content and timing to resonate with your specific followers.
What are the best days and times to post on LinkedIn?
The highest LinkedIn engagement occurs on weekdays, especially Tuesdays, Wednesdays and Thursdays. Best times are early mornings (8-10 AM), lunch hours (12-1 PM) and early afternoons (2-4 PM). Post sparingly on weekends and limit evening and late night posting.
What types of content perform best on LinkedIn?
Prioritize value-driven content like industry news and insights, research data, how-to guides, lists and tips. Encourage engagement with polls, quizzes and thoughtful questions. Use visuals like infographics, stats and images. Avoid overly self-promotional posts.
How can I maintain a consistent posting cadence on LinkedIn?
Use social media scheduling tools like Brandengine.ai to pre-load content and automatically post at optimal times. Schedule consistent posts but vary timing to increase reach. Take occasional breaks to avoid burnout.
How do I know if my LinkedIn content strategy is effective?
Analyze LinkedIn Insights data on clicks, shares, comments, follower growth and engagement rates. Continuously refine your approach based on performance. Quality content that provides value at the right moments will outperform generic or untargeted posts.
In Summary
Posting to LinkedIn requires in-depth knowledge of your audience and strategic content scheduling. Focus on high quality over high quantity. Analyze performance data continuously and test different approaches. Utilize tools to maintain consistent posting during optimal windows. Avoid low engagement periods like nights and weekends. With an audience-centric, nimble strategy you can maximize the impact of your LinkedIn presence. Now you have the blueprint to go forth and develop an optimized posting plan tailored to your goals. Engage your community when it matters most.